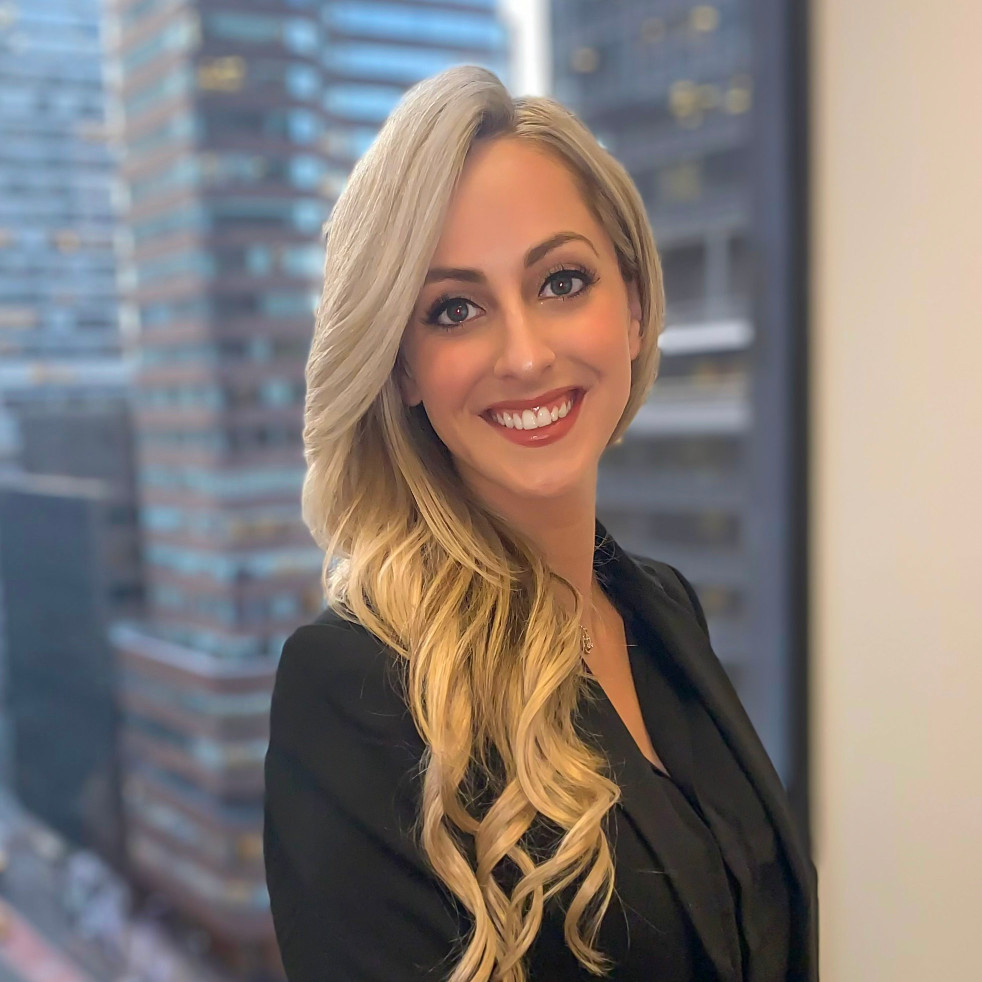 Helene is an Associate at Marsh Law Firm and works to protect the rights of survivors of abuse. Helene works on a wide range of matters representing survivors of childhood sexual abuse, child pornography, and campus sexual abuse, harassment, and retaliation.
Prior to joining Marsh Law Firm, Helene worked at Levy Konigsberg's New York office, where she litigated a broad range of personal injury claims involving victims of sexual and physical abuse.
Helene is a former Special Victims Bureau Prosecutor at the Nassau County District Attorney's Office, where she prosecuted an extensive array of criminal matters including child abuse, sexual abuse, attempted murder, elder abuse and domestic violence cases. Helene was also a member of the Animal Crimes Unit, where she prosecuted offenses perpetrated against animals, including severe torture and criminal neglect. While at the DA's office, Helene successfully litigated dozens of jury and bench trials.
Helene earned her Juris Doctorate from the Maurice A. Deane School of Law at Hofstra University. In law school, Helene was honored by the New York Bar Association for earning State Championships at the National Trial Competitions in both 2015 and 2016. In addition, in 2016 she was the recipient of the New York City Trial Lawyers Alliance Award for Excellence in Trial Advocacy. While at Hofstra Law, Helene was President and Competition Manager of the Hofstra Trial Advocacy Association. Helene earned her bachelor's degree at Ithaca College with cum laude honors in Communication, Management & Design; Corporate Communication; and Legal Studies. While at Ithaca College, Helene Co-Founded the Ithaca College Mock Trial Team, which is now fully implemented into the Legal Studies program at IC.
As a Special Professor of Law at Hofstra University, Helene currently serves as a trial coach in Advanced Advocacy Skills for Hofstra Law's Trial Advocacy Association. She has co-authored four fact patterns for the nation's first and only National Legal-Medical Mock Trial tournament. Helene was awarded an Outstanding Women in Law distinction in 2021 for her meaningful and inspiring contributions to the legal community.
Helene is a Certified Forensic Interviewer for both children and adults. She is an active member of the Nassau County Women's Bar Association and the American Association of Justice.
Practice Areas
Child Sex Abuse
Child Pornography
Title IX Sex Discrimination
Campus Sexual Assault and Harassment
Crime Victim's Rights
---
Education
J.D. – Maurice A. Deane School of Law at Hofstra University (2016)
Flora Brown Scholar, Journal of International Business and Law – Senior Staff Executive, Hofstra Trial Advocacy Association – President & Competition Manager
B.S. – Roy H. Park School of Communications at Ithaca College (2013)
Major: Communication, Management, and Design
Concentration: Corporate Communication
Minor: Legal Studies
Graduated cum laude and with distinction
---
Certificates
Certified Forensic Interviewer for Children and Adults (New York State Office of Children and Family Services)
---
Jurisdictions Admitted to Practice
New York
Eastern District of New York
Southern District of New York
---
Awards & Honors
Outstanding Women in Law Award, 2021 Recipient
New York City Trial Lawyer's Alliance Award for Excellence in Trial Advocacy (2016)
New York State Bar Association Tiffany's Cup Recipient (2016)
New York State National Trial Competition Champion (2016)
New York State National Trial Competition Champion (2015)
Most Outstanding 2L Trial Performance, Hofstra Law (2015)
Most Outstanding 1L Trial Performance, Hofstra Law (2014)
Best Overall Trial Advocate Award, Hofstra Law (2013)
---
Professorship
Special Professor of Law – Advanced Trial Techniques (Hofstra Law)
Co-Author of Hofstra Law's National Legal Medical Mock Trial Tournament
---
Articles and Publications
Helene M. Weiss and Daniel Pollack, Lying to Minors During Interrogations Should be Illegal, New York Law Journal, April 21, 2022
https://www.law.com/newyorklawjournal/2022/04/21/lying-to-minors-during-interrogations-should-be-illegal/
Helene M. Weiss, Daniel Pollack, Amy Mathieu, Might Decriminalizing Sex Work Have Unintended Consequences on Children?, New York Law Journal, Jan. 4, 2022
https://www.law.com/newyorklawjournal/2022/01/04/might-decriminalizing-sex-work-have-unintended-consequences-on-children/
Helene M. Weiss and Daniel Pollack, Interviewing and Deposing Survivors of Sexual Crimes Who Have Intellectual Disabilities, New York Law Journal, Nov. 29, 2021
https://www.law.com/newyorklawjournal/2021/11/29/interviewing-and-deposing-survivors-of-sexual-crimes-who-have-intellectual-disabilities/
Professional Development for Attorneys: A Call for Performance Training – Conference for Undergraduate Research in Communication (2013): 425-37. Print
---
Committees and Boards
CHILD USA Junior Council – Vice President of Communications
New York State Academy of Trial Lawyers – Associate Board Member
---
Associations
Nassau County Women's Bar Association
American Association of Justice
---
Nominations
Super Lawyers Rising Star – Civil Litigation: Plaintiff (2021)
Contact Helene Today